Genasys Protect bridges the gap between first responders and the public, transforming disaster preparedness.
What is Genasys Protect?
Genasys Protect is an evacuation management solution that provides planning, training, and resources to first responders, public safety agencies, and communities to manage evacuations and repopulations successfully.
Genasys EVAC, our Evacuation Management Platform (EMP), empowers first responders with a comprehensive set of tools to navigate the evacuation process and communicate effectively with the community.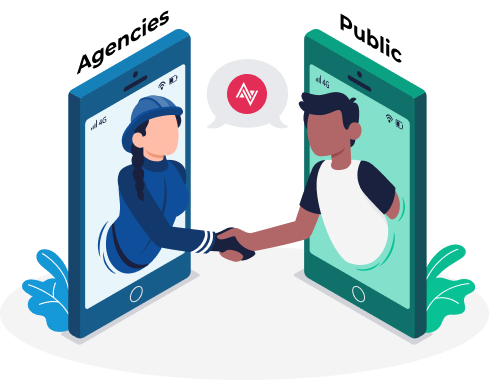 During an Evacuation, Speed is Everything
We have recently seen in California and other areas of the world that crisis events require preparation, real-time information, and dynamic resources to keep people safe.
Pre-planning reduces agencies' reflex time during an incident and ensures that teams are always ready for action. Through pre-planning, training, drills, alerting, and a comprehensive community outreach program, Genasys Protect reduces the time it takes to order an evacuation.
Zones and Zone-Based Evacuation
An evacuation zone is a portion of the community that has been sliced out to most effectively call for and manage the evacuation. Genasys works with local emergency planners to divide a county into smaller community zones, each identified by a unique zone identifier.
Genasys Protect's software produces a digital evacuation map based on these pre-set community zones. First responders use the program to guide decision-making around if, when, and where to order evacuations or evacuation warnings while prioritizing the most vulnerable areas.
How Genasys Works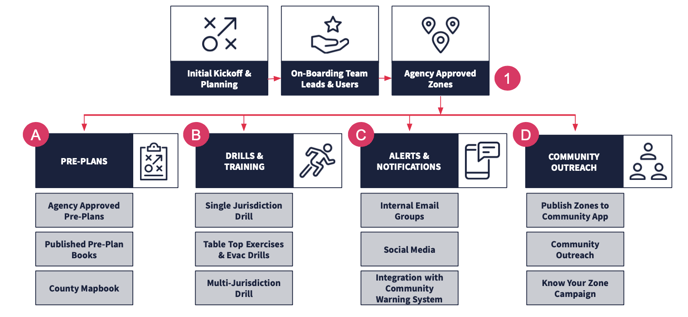 Becoming a Customer
If you work for a government agency that is interested in signing up for our services and/or would like to request a demo, reach out to our Head of Field Operations, Steve Sickler, at ssickler@genasys.com.
Genasys EVAC Overview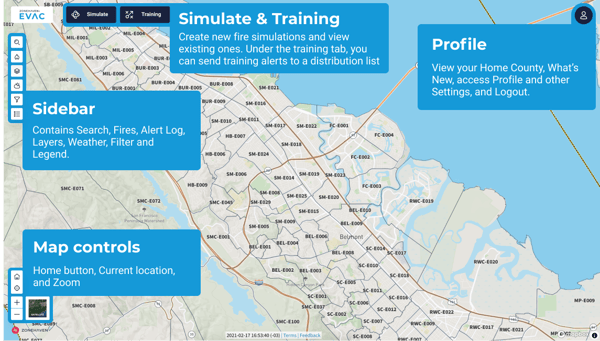 What's in the Sidebar
1. Search: Use this tool to search an address or zone or use your current location.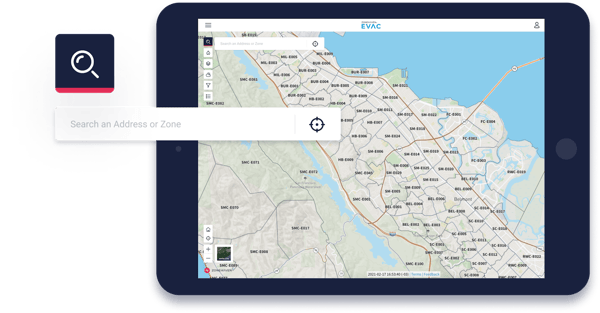 2. Fires: Look up the details and location of past and active fires.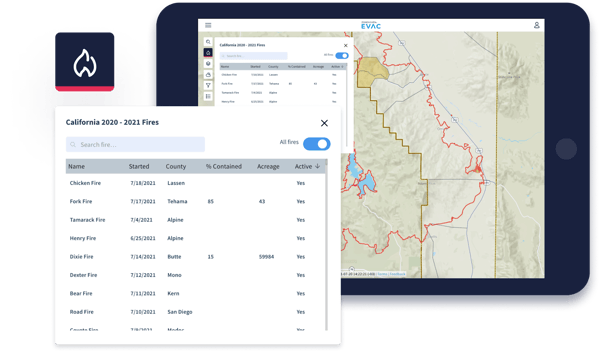 3. Layers: View CEFs, Arrival Points, TCPs, road closures, intersection routes, satellite heat maps, and red flag warnings.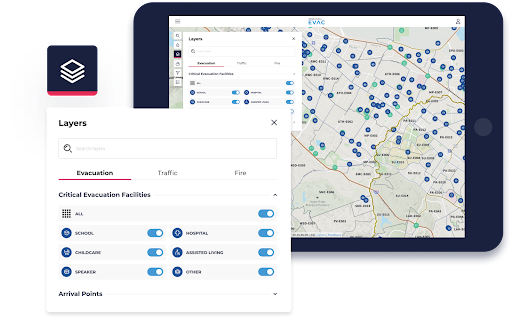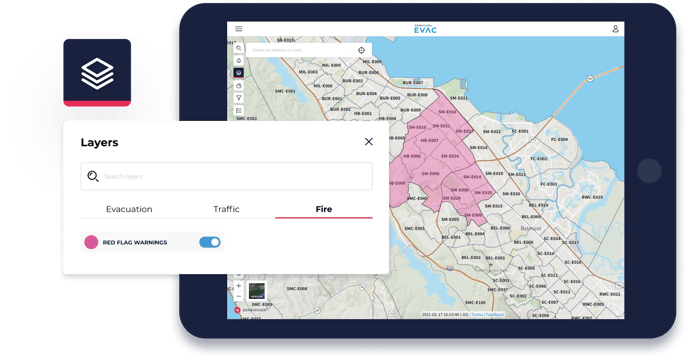 4. Weather conditions: View current weather conditions for a county.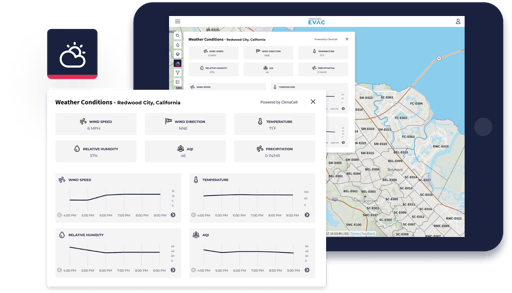 5. Filters: Use filters to view the cities, law, and fire agencies within a county. You can also see the number of zones that fall under each city, law, or fire agency.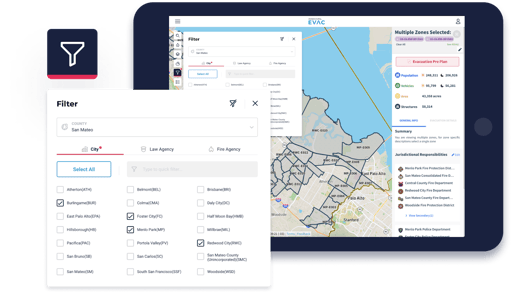 6. Legend: The legend is the key for identifying the various symbols used in Genasys EVAC.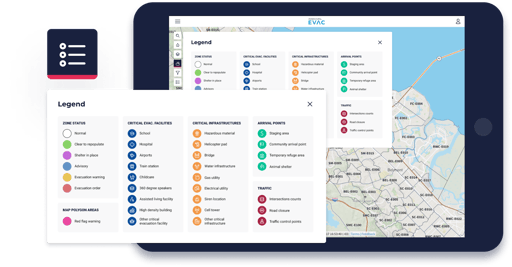 Logging in to Genasys EVAC
You can log in to Genasys EVAC only after an administrator adds you as a user.
1. Look out for the 'Welcome to Zonehaven' email in your inbox. Click the Login button.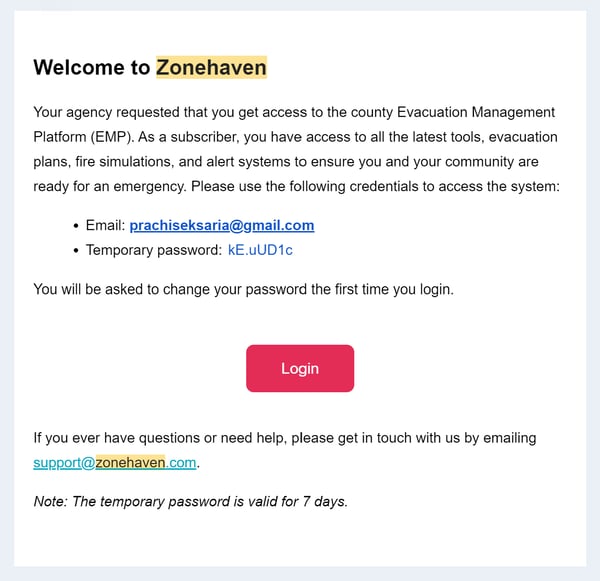 2. Log in using your agency email & temporary password. If you copy and paste your password, be sure there are no spaces included before or after it, and look out for periods or other small punctuation marks that may be at the beginning or end of the password to make sure you don't miss them.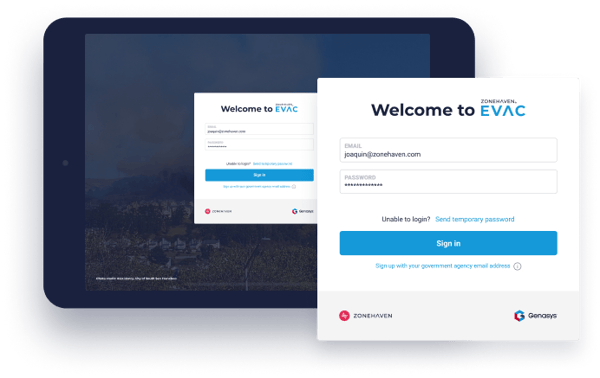 3. Update your temporary password to a permanent password.

Now that you have a basic understanding of how Genasys EVAC works, continue learning about how to manage your Genasys Profile and Settings in our Manage Profiles and Users article.
If you have any questions, email us at support@genasys.com.